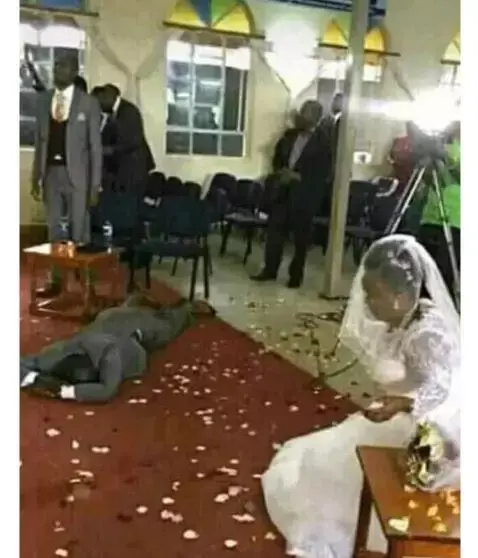 Bridegroom Collapses As Bride Announced 4 Kids She Kept In Secret
Bridegroom collapses in Borabu, Kisii County, Kenya as bride announced four kids she kept in secret.
A week cannot go by in Kisii County, Kenya without hilarious entertainment or shocking news. Here's one of the most shocking stories that unfolded in Borabu, Kisii County, Kenya.
Bridegroom is said to have passed out in front of the entire wedding crowd.
The handsome man identified as Mr. Wilberforce Omwenga was having an affair with the bride at some point when they decided to legalize their marriage.
According to reports, everything was well planned, wedding preparations were carried out such as delicious food, colorful wedding dresses and the wedding ceremony was brilliantly arranged according to the Covid-19 guidelines. This really show how wonderful the wedding could be.
This reaches its final time after all programmes have been carried out since mid-morning. This is a moment of truth just for the exchange of vows of love, protection and loyalty between the bridegroom and the bride.
Surprisingly, just for the bride to swear the vows to the pastor, family members, and invited guests, she couldn't take the vows because she wants to reveal everything in her heart because it is a binding agreement. The beautiful bride then announces that she has four children outside and her lover doesn't know the secret.
It wasn't until the bride had finished her announcement that the groom immediately collapsed. The news shocked the crowd as no one knew what to do. The pastor and the relatives left everything to save the young man's life.