News
Tell your friends
COVID-19 cases in Nigeria have now exceeded 55,000 as the Nigeria Centre for Disease Control announced 100 more cases on Sunday, September 6, 2020.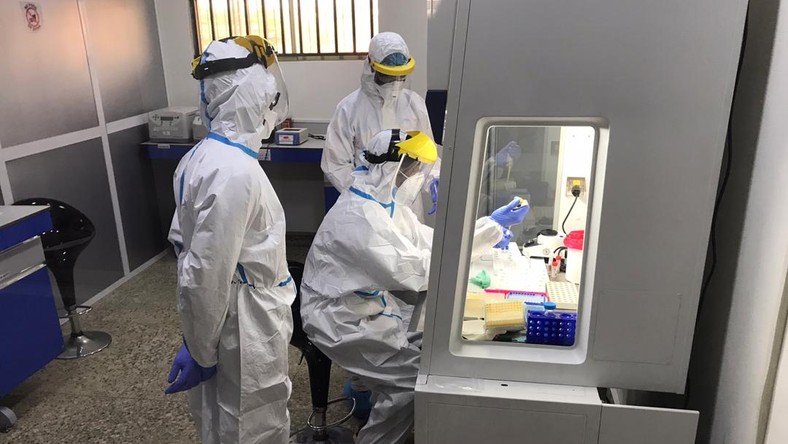 In its break down of the new cases, the NCDC in its Sunday update on the pandemic in Nigeria said 39 cases were recorded in Lagos, 22 in Abuja and 19 in Kaduna.
In Oyo, seven cases were detected, six in Ebonyi, three in Edo, and one case each in Katsina, Bauchi, Ekiti and Nasarawa.
A total of 55,005 confirmed cases of the disease have now been confirmed in Nigeria, while 43,013 patients have also recovered and discharged from treatment centres.
Also, a total of 1,057 deaths have been recorded as a result of the virus in Nigeria.
Source: Pulse Nigeria
#NCDC #COVID-19
Tell your friends
Thank you! You have successfully subscribed to receive our newsletter pulse.ng
LIKE PULSE NIGERIA FOLLOW PULSE NIGERIA
Eyewitness? Submit your stories now via social or:
Email: eyewitness@pulse.ng
3 reasons why Dino Melaye's flamboyant lifestyle is a problem for Nigeria
Published Today at 9:15 AM
Court again orders police to produce Bayelsa governorship candidate
Published Today at 10:29 AM
UK judge explains how Osinbajo detected P&ID fraud against Nigeria
Published Last Saturday at 3:15 PM
Ogun government orders full reopening of schools September 21
Published Yesterday at 9:35 PM
'Hanan Buhari's wedding has nothing to do with Nigerians' hardship,' says First Lady's aide
Published Yesterday at 10:05 PM
Report: The disrupting influence of coronavirus pandemic on WASSCE
Published Yesterday at 9:22 AM
Healthcare workers battling COVID-19 in Abuja receive some of their pay after Pulse Exclusive
Published Today at 6:18 AM
Ondo election: PDP governorship aspirant resigns
Published Yesterday at 4:59 PM
Schools, NYSC camps remain closed as Buhari approves reopening of cinemas, gyms
Published Last Thursday at 8:32 PM
Source: Pulse Nigeria.