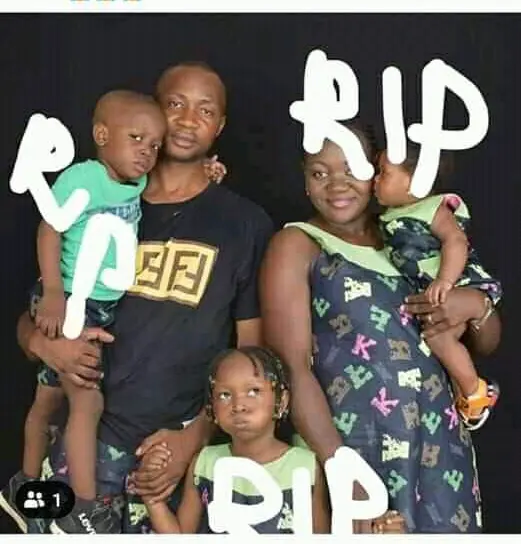 Man lost wife, 3 kids over infidelity
According to Wikipedia, Infidelity (i.e. cheating, straying, adultery, being unfaithful, or having an affair when married) is a violation of a couple's assumed or stated contract regarding emotional and/or sexual exclusivity. Infidelity can also be seen as a violation according to the subjective feeling that one's partner has violated a set of rules or relationship norms; this violation results in feelings of anger, jealousy, sexual jealousy, and rivalry.
However, what constitutes an act of infidelity depends upon the exclusivity expectations within the relationship. In marital relationships, exclusivity expectations are commonly assumed, although they are not always met. When they are not met, research has found that psychological damage can occur, including feelings of rage and betrayal, lowering of sexual and personal confidence, and damage to self-image. Depending on the context, men and women can experience social consequences if their act of infidelity becomes public. The form and extent of these consequences are often dependent on the gender of the unfaithful person.

This is a case of Chijioke Samuel, a married man with three children, who lost his family (wife and three kids) over infidelity.
As was gathered from a Facebook post made by the lady whom Chijioke is having extramarital affaire with. The father of three engaged in the relationship with the lady who she lied to that he is still single.
They dated and the lady even had two abortions for him hoping that they will get married as the day go by, unknown to the lady that Chijioke is happily married with three children somewhere.
Eventually, she later discovered that the boyfriend is happily married with kids after he lied to her he is single, the lady was deeply affected emotionally knowing that she had committed two abortions for the sake of their relationship.
This lady became furious and started fighting the boyfriend's family. Unfortunately to Chijioke (the boyfriend), she had succeeded in killing the wife and three children. The disappointed lady is also threatening the entire family that she will make sure Chijioke pays dearly for the emotional pains he has caused her.
However, in the cause of the toxic relationship, Chijioke gave the girlfriend full access to his Facebook account, something he can never disclose to his wife. The Facebook account is Chijioke Samuel.
Meanwhile, after the disappointed girlfriend killed the wife and three children she came to the boyfriend's Facebook account to make it open.
See what she posted: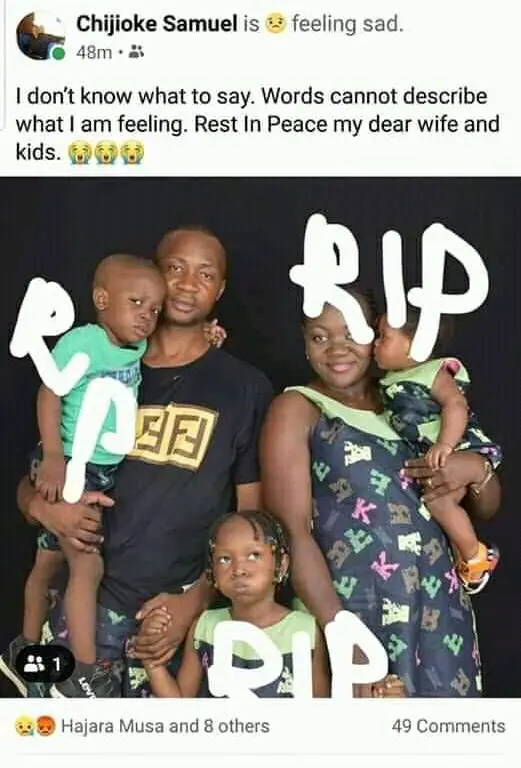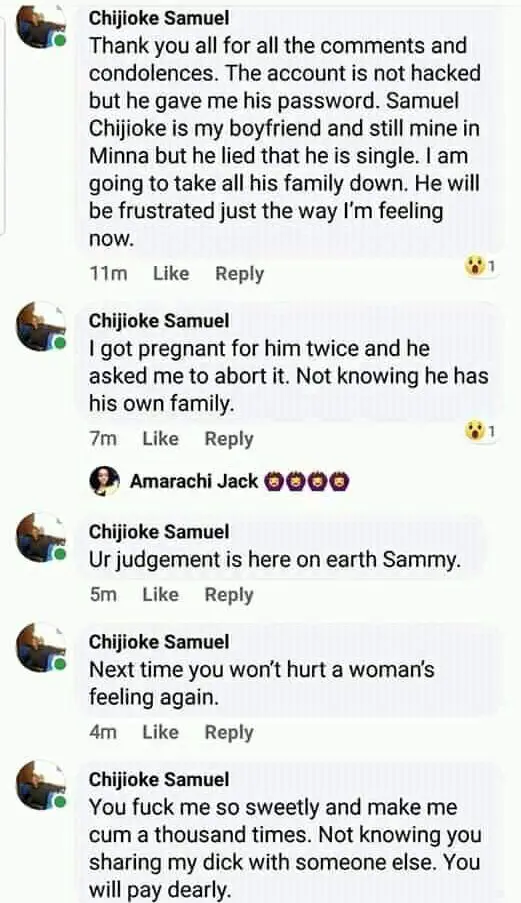 It is painful that Chijioke has to pay with the innocent lives of his family who has nothing to do with his reckless life.
Nonetheless, this should sound a warning to those men who can never be satisfied with what they have. They should know that not every lady that will let go when a man played with her emotion. Some ladies like this one will go extra mile to revenge.
However, in my opinion, the lady went far by killing innocent people who have nothing to do with their toxic relationship.
Please through the comment box, let us know what you think about the extent this Lady went, Killing the innocent wife and kids.