News
Tell your friends
A total of 1,091 deaths have been recorded as a result of COVID-19 outbreak in Nigeria.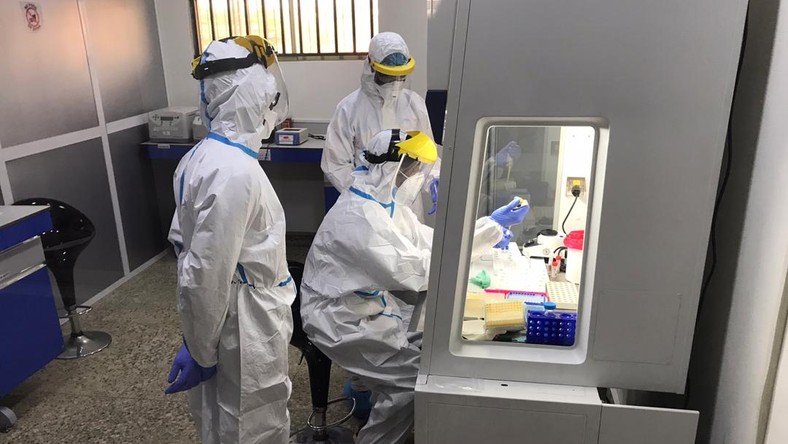 The Nigeria Centre for Disease Control (NCDC) said the new cases were confirmed in 16 states and the Federal Capital Territory, Abuja.
According to the agency, the highest number of the new cases was recorded in Abuja with 37 infections followed by Lagos with 27.
Plateau state recorded 16 new cases, Kaduna recorded nine, Abia, seven while Gombe and Ondo state confirmed six cases each.
In Imo state, five more cases were detected, while Delta, Ekiti, Kwara and Oyo all recorded two cases each, followed by Bauchi, Kano, Katsina, Ogun and Yobe with one case each.
The daily update by the NCDC on Wednesday also showed that 47,872 patients have so far been discharged while 1,091 deaths have been recorded as a result of the virus.
Source: Pulse Nigeria
#COVID-19
Tell your friends
Thank you! You have successfully subscribed to receive our newsletter pulse.ng
LIKE PULSE NIGERIA FOLLOW PULSE NIGERIA
Eyewitness? Submit your stories now via social or:
Email: eyewitness@pulse.ng
Meet Kiddwaya's dad, the flamboyant moneybag who returned to the limelight following his son's exploits at BB Naija
Published Last Monday at 8:48 AM
UK threatens election riggers in Nigeria with visa ban, asset seizure
Published Last Tuesday at 7:53 PM
International travellers have been presenting fake COVID-19 test results to Nigeria
Published Yesterday at 11:57 AM
3 lecturers indicted, 3 INEC officials sacked over electoral malpractice in Akwa Ibom
Published Yesterday at 10:00 AM
PDP lauds Buhari on deployment of security for Edo election
Published Last Tuesday at 9:27 PM
President Buhari unveils "Nigeria@60" logo at Federal Executive Council meeting
Published Yesterday at 2:27 PM
US imposes visa ban on election riggers in Nigeria
Published Last Monday at 8:26 PM
Obaseki to Tinubu: 'Edo is not Lagos, your godfatherism won't work here'
Published Last Tuesday at 4:14 PM
LASG announces phased resumption for public, private schools
Published Last Sunday at 5:10 PM
Source: Pulse Nigeria.