See The Traditional Ruler In Imo State And Pastor Arrested By Police For Allege Kidnapping
The Anti-Kidnapping Unit Operatives and the Special Anti-Robbery Squad (SARS) In Imo State Police Command, Arrests the Monarch of Obor kingdom in Awara, Oguta Local Government Area of Imo State. Andrew Okuegbunuwa was Arrested alongside with a pastor named Caleb Agu for an alleged Kidnapping.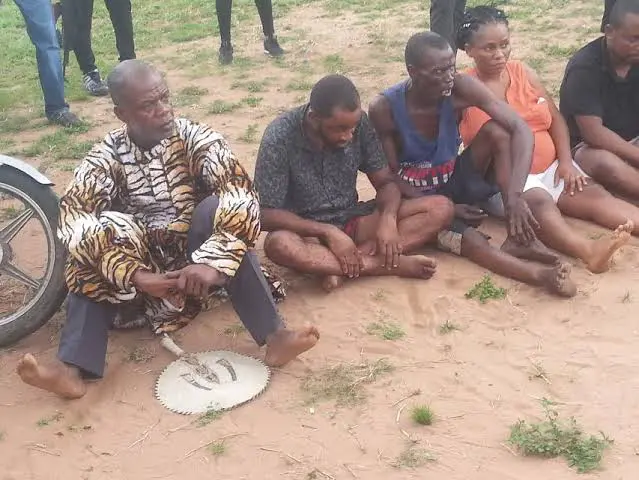 The Commissioner of Police in Imo state, Isaac Akinmoyede, Moved the Obor Community traditional ruler alongside with his 8 suspected gang members to the police headquarters in Owerri. It was not that they were responsible for killing two National Drug Law Enforcement Agency personnel in Imo state about some months ago.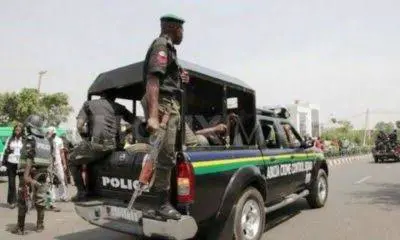 The Commissioner of Police said that the traditional ruler is the one who provides the gangs with vehicles which they use for operation. And the pastor was the leader of the gang. He also went further to say that the Cops recovered N4.2m as part payment they collected as ransom from one of their victims.
It was also disclosed by the commissioner of Police that four AK-47 rifles, one rifle belongs to the NDLEA personnel they killed. Also Lexus SUB, 120 rounds of live ammunition and other exhibits were recovered from these suspects. The CP also said the gang gave the traditional ruler N3m from the over N7m which they received as ransom in one of their operations.
During an interview with the traditional ruler, he agreed that apart from the N3m the gang gave him due to the lost of his car in operation, that he have been collecting money from them each time they comes back from any operation. He also said that he is aware that his vehicles were being used for the kidnapping operations.
See Photos