A massive protest to demand justice for Nzete Ogochukwu, a murdered 500 level Electrical/Electronics Engineering undergraduate of the University of Port Harcourt on Monday rocked Asaba, the Delta State capital.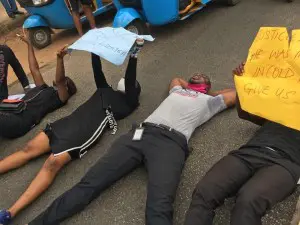 Recall, Focus Naija earlier reported that a stray bullet hit the undergraduate on Sunday when irate youths shot sporadically during a communal crisis that also led to the death of another young man that was simply identified as Akpe Raymond in Ogume, Ndokwa West Local Government Area of Delta State.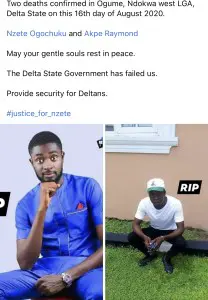 Registering their displeasure over the killing of the undergraduate who until his death was a prominent national leader of the National Association of Delta State Students, the protesting student leaders with placards that read "Justice For Nzete", "Comrade Nzete Life Matters, berated the government for not doing enough to protect the lives of citizens.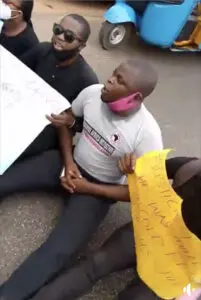 "The killers of Nzete Ogochukwu are known and must be prosecuted. We need Justice", the protesters chanted as they cried and barricaded major roads in the capital city obstructing free flow of traffic.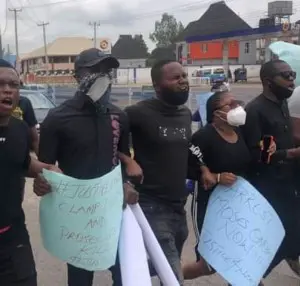 Policemen were quickly drafted to the scene of the protest to forestall breakdown of law and order until Jerry Ehiwario, the Senior Special Assistant to the Governor on Student Matters arrived to help pacify them with an assurance that government will apprehend the killers and restore peace to the troubled Ogume community.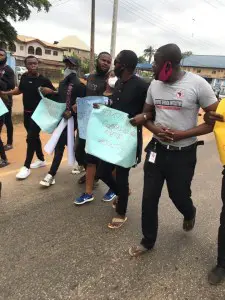 Below is a detailed account of the demands of the protesters obtained from Comrade Eboka Jude;
JUSTICE FOR Nzete Ogochuku
THE COMRADSHIP COMMUNITY LANGUISH IN PAINS. TAKES TO PROTEST IN ASABA TO SEEK JUSTICE OVER OUR LOST BROTHER.
LOST TO COMMUNIAL CRISIS IN OGUME, DELTA STATE.
We call on the Government of Delta State for justice to prevail over the issues behind the death of Comr Nzete, and the entire Ogume communial crises. The culprits should be brought to book.
Can a small unit of an entire Body take laws into their hands and a Government who is supposed to be responsible for the security of lives and properties seem formless to fostering Peace in areas of unrest????
This occurrence leaves us with diverse unanswered questions.
I recall 2014 when there was unrest in Otefe, Oghara, the military gave an ultimatum for people to evacuate the community and there was intant stability untill there was resolves.
It could be any other community, it could be any other Young, promising and vibrant soul from Delta.
As youths we deserve to be announced for remarkable impacts made, we deserve to be addressed with notable titles, and not #LATE.
I Do hereby, call on all stake holders who are responsible to Foster lasting peace and Stability in our Dearest Delta State to stand up to their responsibilities.
Our cries and continuous protests will not bring lost souls back, but it will also not paint our Dearest Delta State in good light.
WE SEEK JUSTICE IN ALL RAMIFICATIONS.
THATS ALL OUR HEARTS BEAT FOR.