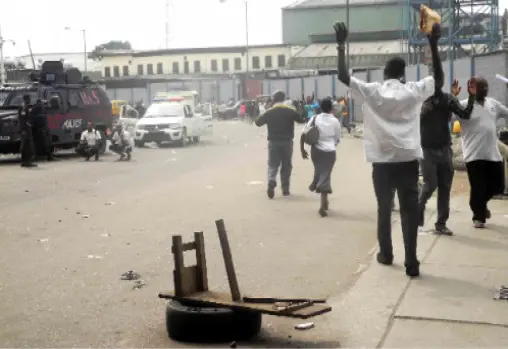 Palpable tension and fear of the unknown have continued to unsettle residents of Asaba in Delta state following the recent cult war killings which claimed the lives of two persons, and multiple political crisis.
While the dust of the multiple political crisis and the cult war killings were yet to be over, robbery syndicate that specializes in stealing giant diesel engine generating sets, especially the Mikano brand, has invaded Asaba, carting away five of such industrial power plants and killing a security guard in one of the scenes of their operations.
Sources said the gang operates at nights with lorries ,cranes for lifting the sets and other equipment that would aid their operations including setting up the Pepper Rice Joint on Anwai road in Asaba, a petrol station close to the housing estate, Asaba (names withheld), signature secret,( a fashion outfit) High Court, Asaba and one at one MTN Masts, where they killed a security guard last week.
Our informed sources said that at one of the MTN sites on Agric road, Asaba, the gang confronted two security men on duty and strangled one to death, while the other, who is currently in the police net, escaped for his life.
Apart from the popular eatery, Pepper Rice where the hoodlums invaded and stole their Mikano generator set during the total lockdown period, others lost their generators recently.
Residents and victims who spoke to our Correspondent in Asaba, one of them, Ezikiel Osokugwu wondered how strange robbers could escape police check points that were dotted on major roads within the state capital.but confirming the activities of the gang on telephone on Tuesday, the Police Public Relations Officer in the state, DSP Onome Onovwakpoyeya said that the police had intensified patrol to pin down the gang members, adding that they needed information from the public to act fast and stop the rampaging thieves.
According to her, the modus operandi of the gang was to violently confront any resistance by security personnel, stressing that they move with a lorry crane and other equipment. While reiterating that police were already on their trails and pleaded with members of the public to always asist the police with useful information that could lead to the arrrest of the robbers before they commit more havoc.
Meanwhile, following the alleged murder of an administrative officer in the ministry of Housing, simply identified as Henry Onowo, the chairman, Delta State Taskforce on Environment, Mr Sylvester Oromoni has directed all illegal occupants and shops in the old secretariat to vacate the premises before the weekend.
Oromoni who spoke to Journalists in Asaba warned that the taskforce would forcefully eject the occupants,if they failed to comply , adding" It is unfortunate that miscreants were illegally occupying the Secretariat, the suspect who allegedly attacked the officer was an Illegal occupant"