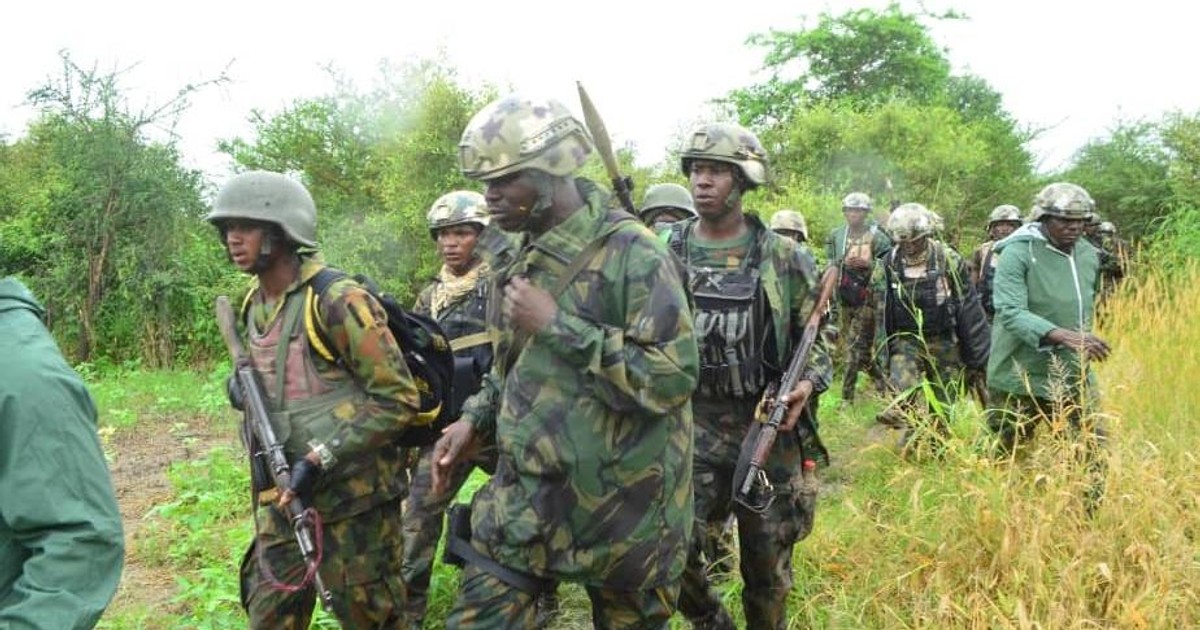 News
Tell your friends
Troops of Operation Lafiya Dole (OPLD) says it has killed five members of Boko Haram/Islamic States for West African Province (ISWAP) terrorists and rescued seven kidnapped victims in Gwoza Local Government Area of Borno.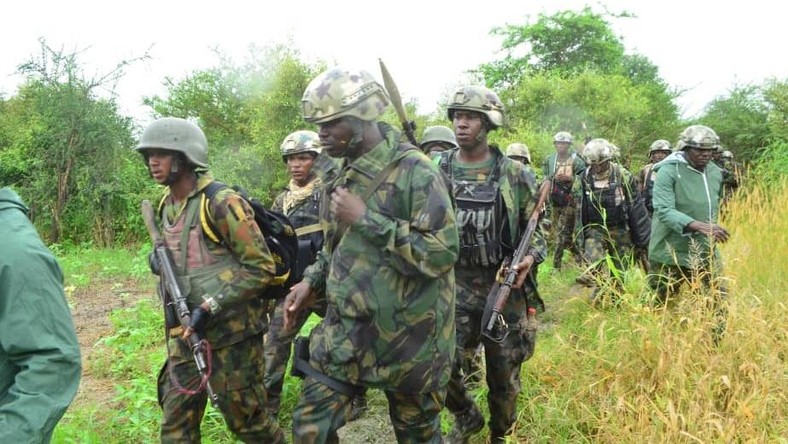 Enenche said that the troops of 192 Battalion supported by the Air Task Force, successfully raided the terrorists' location at Hamdaga Makaranta town in Gwoza on Sept. 6.
He said that the troops acted on credible intelligence on the activities of the terrorists in the area.
ALSO READ: Troops raid bandits' camps, kill one, arrest 4 in Benue, Nasarawa
According to him, the gallant troops overwhelmed them killing five, while others escaped with gunshots wounds.
"Troops also cleared nine identified isolated BHT/ISWAP structures and farmlands in the area.
"Furthermore, troops successfully rescued seven kidnapped victims comprising two females and five children.
"Currently the gallant troops have dominated the area with aggressive patrols," he said.
Enenche said that the Military High Command had congratulated the troops for their gallantry, dexterity and encourage, urging them to intensify the onslaught against the criminal elements in the North East.
Author: News Agency Of Nigeria Source: NAN
Tell your friends
Thank you! You have successfully subscribed to receive our newsletter pulse.ng
LIKE PULSE NIGERIA FOLLOW PULSE NIGERIA
Eyewitness? Submit your stories now via social or:
Email: eyewitness@pulse.ng
UK judge explains how Osinbajo detected P&ID fraud against Nigeria
Published Last Saturday at 3:15 PM
FG says N30.5b was spent in 4 months to tackle COVID-19
Published Yesterday at 8:13 PM
Report: The disrupting influence of coronavirus pandemic on WASSCE
Published Today at 9:22 AM
Schools, NYSC camps remain closed as Buhari approves reopening of cinemas, gyms
Published Last Thursday at 8:32 PM
Police arrest 2 Nigerians for 'defrauding' a state in Germany of €2.3m COVID-19 fund
Published Yesterday at 6:57 PM
ASUU: 'School reopening without adherence to COVID-19 protocols is dangerous'
Published Yesterday at 4:25 PM
Oba of Benin to Governor Obaseki: 'You will not be in power forever'
Published Last Thursday at 5:08 PM
Troops raid bandits' camps, kill one, arrest 4 in Benue, Nasarawa
Published Today at 11:08 AM
Lagos Govt reopens 2 recreational parks, stresses adherence to COVID-19 protocols
Published Yesterday at 9:13 PM
Source: Pulse Nigeria.