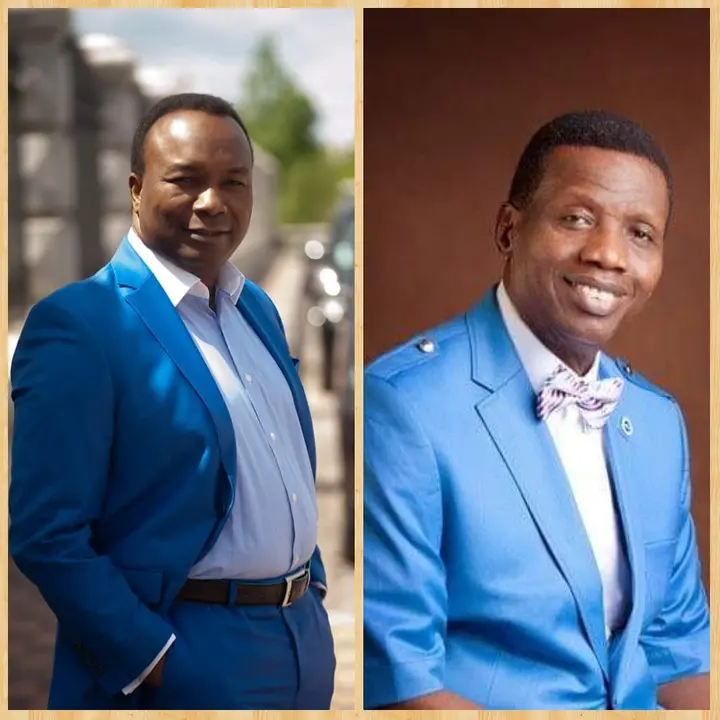 Why I Had To Throw Away The Messages Of Pastor Adeboye I bought – Sunday Adelaja Reveals
Sunday Adelaja, who is the founder and senior pastor of The Embassy of God in Kyiv, Ukraine, reveals why he throw away the messages of Pastor Adeboye he bought, on his YouTube channel.
Here is the link to the YouTube video where Sunday Adelaja reveals, why throw away Pastor Adeboye's messages:
But in case you don't have the luxury of time and data to watch the video on YouTube. Here is the summary of everything Sunday Adelaja said in the video: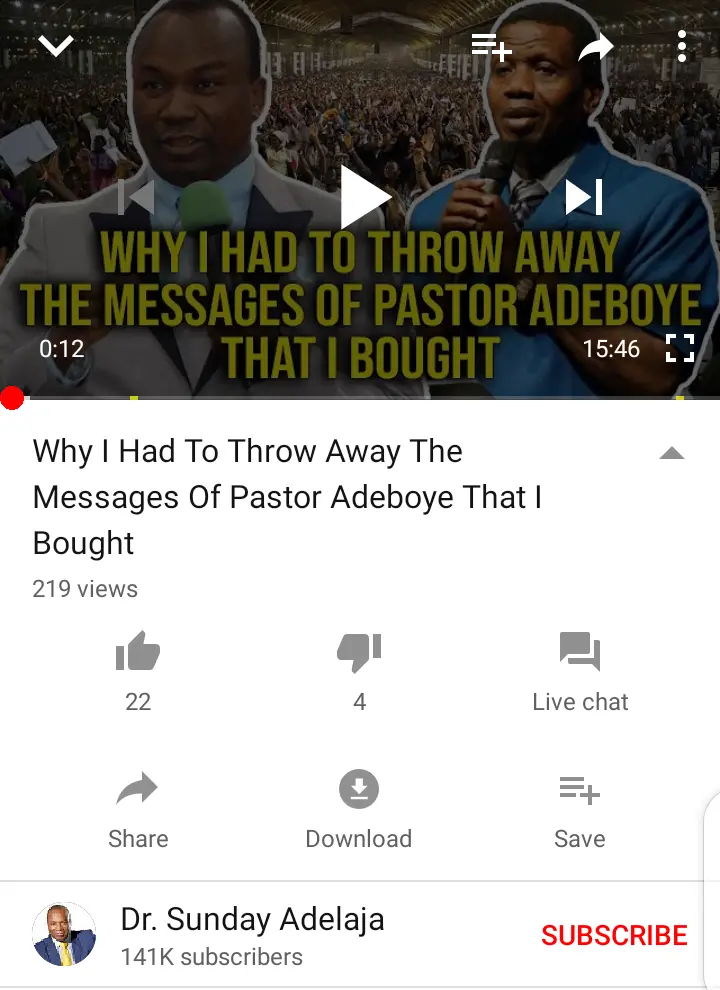 Adeboye always incites people to always ask God to give them something. Give me a miracle, give me a career. It's always about transaction when it comes to God. God also have his burden. Anytime you hear something they call in Nigeria, Holy Ghost Night or something. I believe I made a mistake. When I went to Nigeria to attend one of the Holy Ghost meeting.
I bought almost all the cassettes of their program for 4years. I regretted it, that is the greatest mistake of my life. Because I thought I was going to learn God from the CD's cassette. Those days are CD's days. But what I was hearing is, today is your miracle. God will give you something. I am not interested. I want to know Him. It's Him I want to know. How did you get to know Him like that. Teach me how you get to know Him. But it's all about miracles, always about blessings
What if I'm already blessed? I don't want it. I'm already blessed, I'm okay. I want to know my Father. How do I love Him. I just throw off those cassettes. It's not about God. It's not about transaction, and this message I'm preaching. I'm going to be attack. Even people who are my disciple, who are following me, are going to exclaim that, "You mean you are not going to God to meet your needs."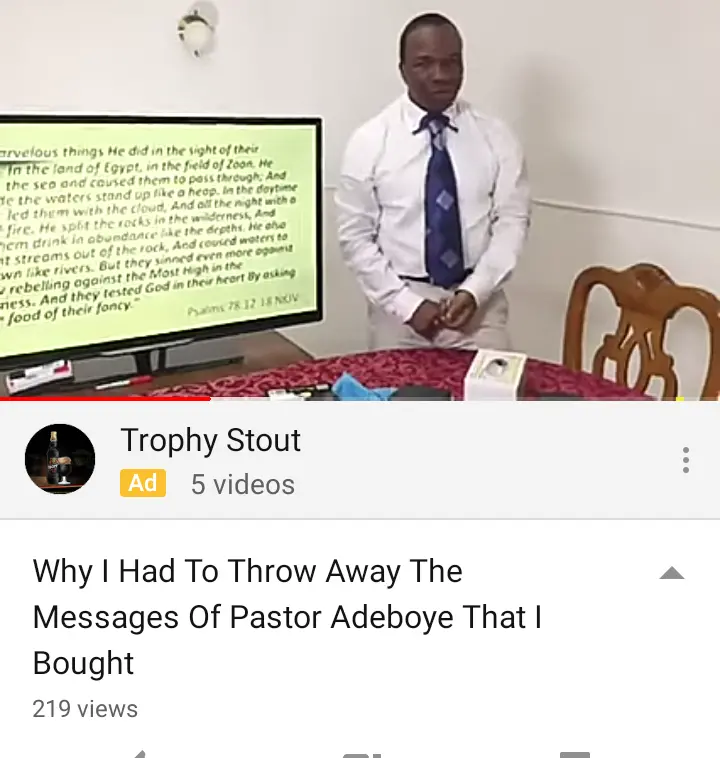 Just believe Him, seek ye first the kingdom and His righteousness. It's about Him and His kingdom. To be like Him, to fulfil His will. You wait if He will not give you all those things. But when you are seeking Him with those intentions of things in mind, that is transaction. That's why Jesus said, no, don't base your relationship with God with transactions, but even if you are going to hate me, curse me, I'm going to say the truth.
Our relationship with God is not supposed to be transactional. It's supposed to be relational. It's supposed to be transformational. If you listen to Adeboye messages, it's all driven by lust. So, when you are telling me all the time, give me, give me and you want Christian not to steal. You want Christians to be like God and Christ, yet you are planting in them the seed of lust and greed. Give me, give me, anytime you go to church.
Church is supposed to help you. Get rid of those kind of mentality, but rather he"s planting it in you, more greed, always about give me, give me! Of course, you will become greedy and more lustful. They say I'm the one that is in error and crazy, but I'm surprised why you cannot see this. That's why the country is not changing. If they are the one who are right, why is it that Nigeria is where it is now. Why is it that Christians are so many and things are not changing, because what they are preaching is not right.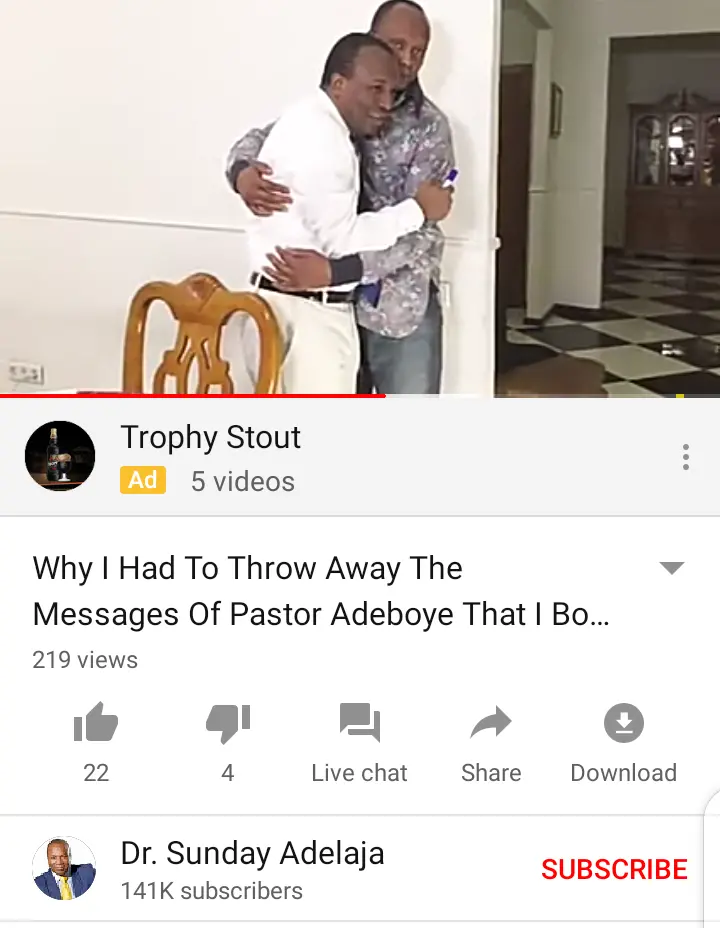 The Gospel they are preaching is not right. When we are preaching transactional Gospel, people will be corrupt, lustful, hate one another, and suspicious of another. Because they are greed driven. The very thing that Church supposed to help curb, and if we never tell them to become like the image of God, they want. People become worldly in Church. What is relationship with God supposed to be about.
Jesus said in John4v21-24, two things he said here. One, the people who believe in God will no longer be attach to a geographical location. God is no longer be limited to a certain place. You don't need to go to Church to know God. God is every where. This is New Testament. You can go to church if you want, to edify and be a blessing to people in fellowship. But you don't need to get to know God to be in Church. It's through personal relationship you get to know God. It's through the truth you get to know God.
So, this is what Jesus said. Anytime I mention John4v21-24, people attack me. They say, what of Heb10v25. That scripture is talking about fellowship. Meet people of like minded, be in fellowship with one another, not church. Jesus has cancel that, you don't need to go to church to meet with God. You can go to Church if you want but don't make the Church a big deal.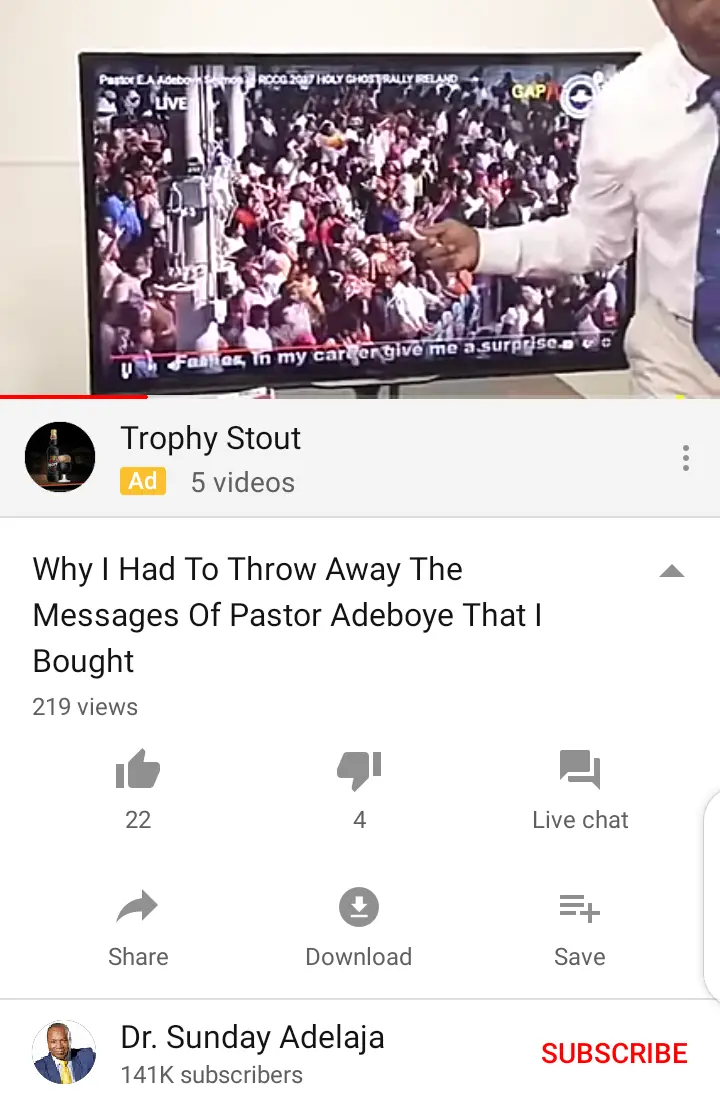 In Africa now, 90% of Christians thinks that they go to church to meet God on Sunday's. Do you know that Christians in all the world, ask most of them. What are you going to church to do. They will tell you they are going to Church to meet God. That's the fallacy. It's paganism. That's why Jesus said, it is not going to be like that again. God had to dwell in a place in the Old Testament like a shrine, a certain place. But Jesus said in John4v21, you will no longer need to come to the mountain or Jerusalem.
God himself commanded them to come to the mountain and to Jerusalem. But Jesus come and said, wake up. Because if Jesus focus on an exact place, people will be thinking about church all the time, they will never focus on Him and abide in personal relationship. They focus your mind on going to some place to find God. You don't need to go any where to find God. That is another thing must change in our African Church. God is here in you. He said, I will come and make my abode in you. You are the temple of God.
So, Jesus is saying, you will not need to go to the mountain or Jerusalem to seek God. So, what then is personal relationship with God. It will not going to attach to building anymore, but in Nigeria today, people emphasized so much on Churches today, that they will rather go and build one billion naira building and bypass someone, that needs one thousand naira. They gather money from people who cannot eat to go and build structure that will be destroy by fire. God doesn't dwell in the temple that is build by men, we are his temple.
The transactional Gospel is so strong in Nigeria, that you have to go to Church to get to meet God. But Jesus said the hour has come to worship God in truth and in spirit, and not in Jerusalem or mountain. Worshipping God without knowledge of the truth is emptiness. So, the most important thing in Christianity is knowledge of the Father. That's what all the Pastors should be helping the people to have personal relationship with the Father. Any religious activities that is not helping your relationship with the Father is a waste of time.